HILARIOUSLY OVERDUE EDIT:
There's a lot of discussion on these boards about advanced optimization, but not as much about fundamentals. So, as I find the time and inclination, I'll be posting some games of mine. I consider myself to be an advanced player, but definitely not an expert. You won't see anything brilliant in my games, but you will see something that's at least competent. I'm hoping that it will be a good learning experience for the new players.
I made a brand new profile for this run. I will not be doing any selective unlocking or hardcore scumming. I will avoid using the hard-to-reach preparations. The tools and techniques I will be using should be available to any beginner. After, all, that's the whole point of this exercise!
Before we begin, some key intermediate-level concepts:
1) Always fight the highest level monster possible. Avoid equal or lower level fights whenever possible.
2) Always fully expend your resources before leveling up
3) There are 2 9th monsters, 3 8th level monsters, and 4 7th level monsters. Its best to have killed all of the 9s and 8s before or during your 7th level, as well as many of the 7s as possible. This way, you can start fighting the boss from level 7, with all of the remaining monsters being 'popcorn.'
Some words I made up to save typing:
Catfight: A fight where the player kills a higher-level monster. A play off of 'experience catapult.'
Generals: A name I gave to the two 9th level monsters.
Captains: The three 8th level monsters
Lieutenants: The four 7th level monsters
My first run is against the Den of Danger as a Fighter with no preparations. I have not found any gods, and I don't even have shops yet. This is as basic as it gets.
The Fighter is probably the weakest class in the game. Except for Pit Fighter (which only works once), he has no tools that enable catfighting. If I don't fight a useful glyph or a pile of powerups early on, I may have get my first level up off of 1st level monsters. I'm willing to burn the first 1/3 of the map or so before resorting to this.
Here goes!
Nice! Almost immediately, I find a 2nd level monster and the tools to beat him!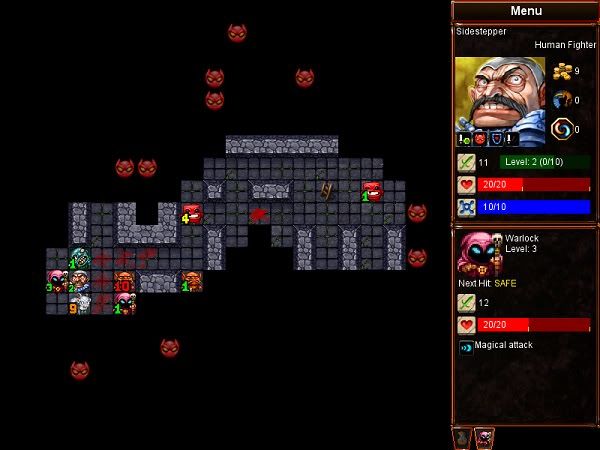 Since I'm a Fighter, this ended up being just enough to reach level 2. I start hunting for 3s, and find one almost right away. I also find the boss and one of the generals. Very nice!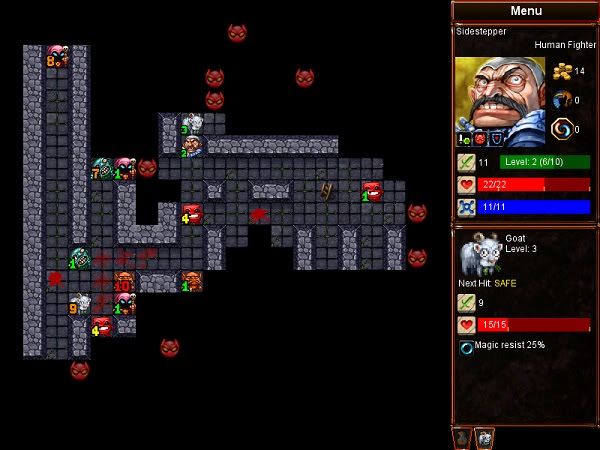 After devouring the warlock, I strike out and hunt for another juicy 3, finding one of the captains along the way.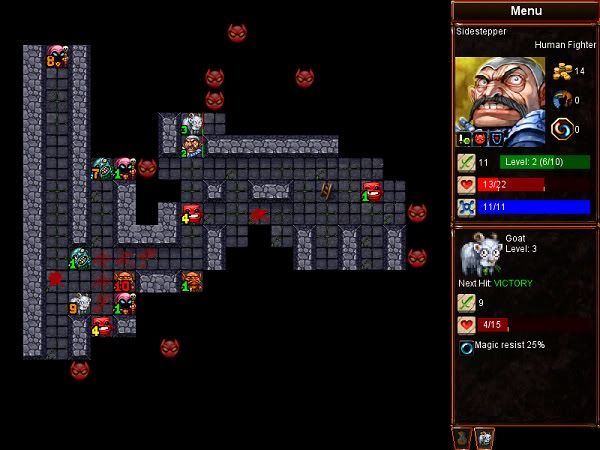 And now for something a bit more advanced. I have the goat on the ropes. Killing it will level me up, but I still have some resources to spare.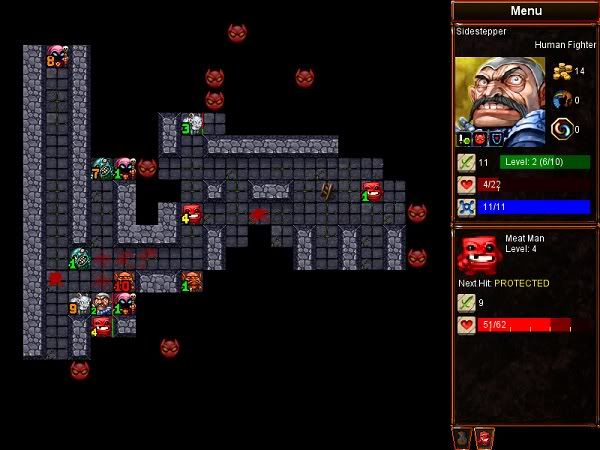 So I take a bite out of that meatman first. Always look for ways to unload your spare resources right before leveling up. From there, I kill the goat and the meatman (and in that order!)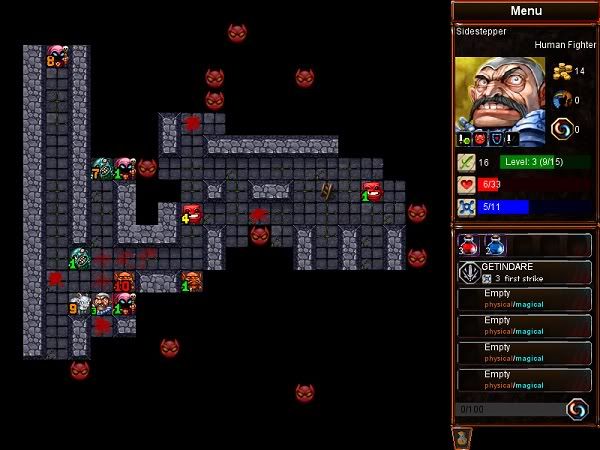 At this point, I already know that I'm going to finish the level off by catfighting with the other meatman-4, but I need to regenerate first.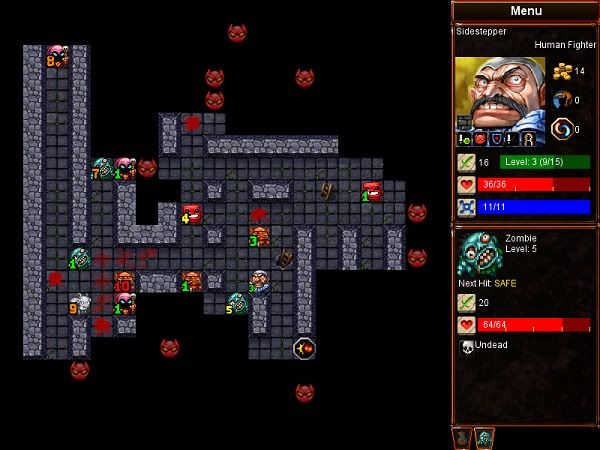 In doing so, I find PISORF, and well as a zombie-5, which will be a perfect target after I finish off the meatman.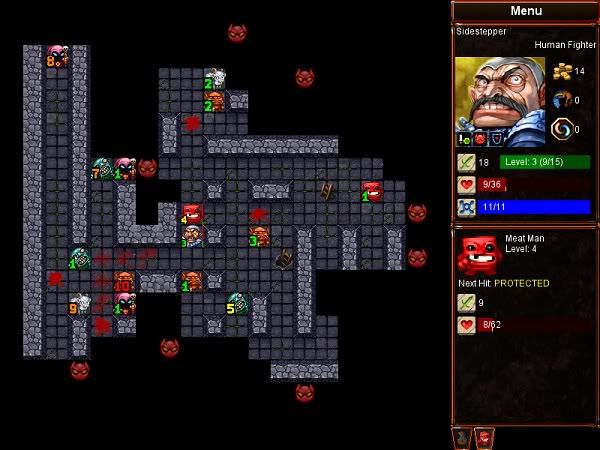 There's a lot going on in this picture. I've got the meatman down to where I can finish him off with a GETINDARE strike. But also, notice how I explored the area around the zombie? That was on purpose, and I made sure to do it BEFORE engaging the meatman. Do you know why I did that?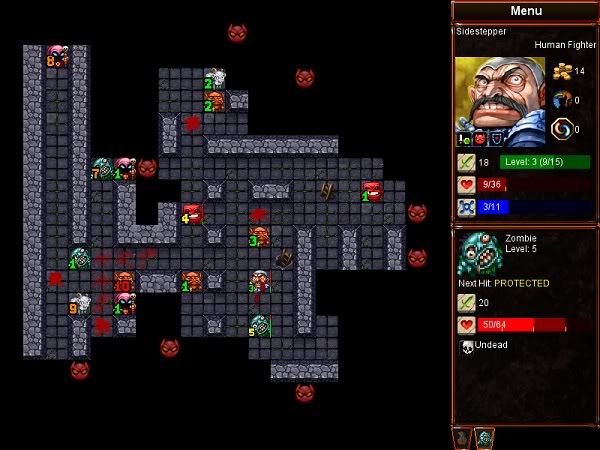 Because I wanted to use my leftover mana to pre-damage the zombie, and PISORF requires careful positioning. From there, I level up off of the meatman, finish off the zombie, and then go hunting again. At this point, I've acquired enough powerups that I might be able to handle a 6th level monster. The cattier the fight, the better!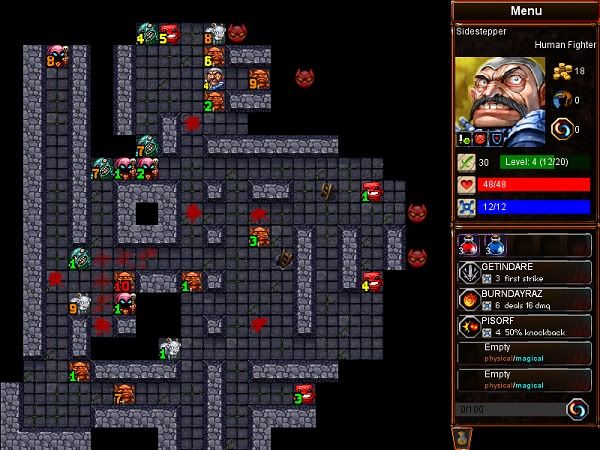 A very nice bit of exploration. I find the fireball glyph, a goblin-6 that I can just barely take down, as well as the remaining general and one of the captains.
After leveling up off of the goblin, I realize that I have the tools to take down the goat general. Catfighting from four levels below! Hell yes!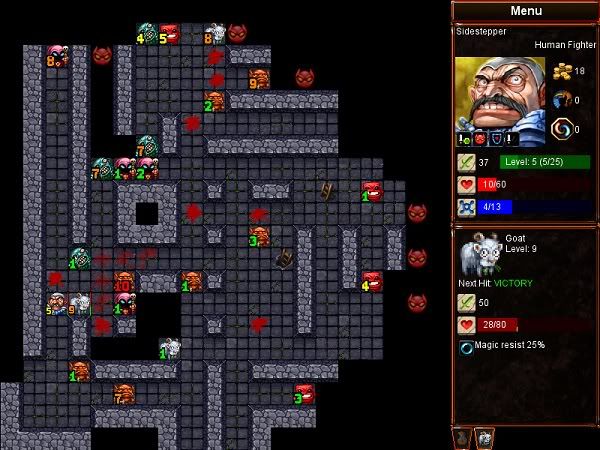 From here, I realize that I can't kill the remaining general, but I can pick off those two captains. So that's exactly what I do!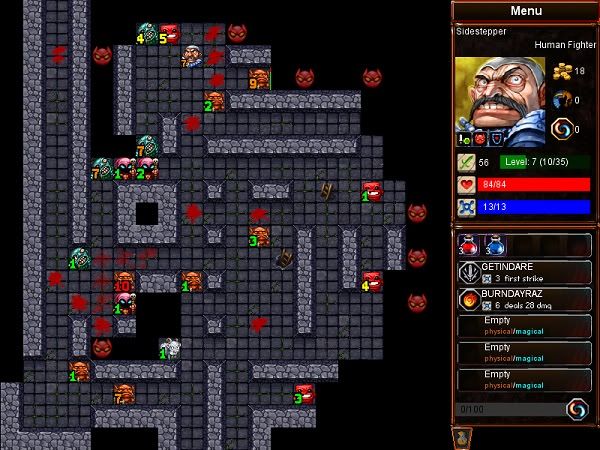 See how the goblin general has taken some damage? That's because I used my spare mana to fireball him before killing the goat captain. USE YOUR LEVEL UPS!
At this point, both generals and two of the captains are dead, and I'm still only level 7. At this point, I will finish exploring the map and use the remaining monsters to refill my resources while fighting the boss. I may decide to pick off the those three lieutenants and then find and kill the last captain first. That will expend my level up, but will allow me to start the boss fight at level 8 and have all of the 'hard' experience already claimed.
I would have followed this to the conclusion but I had a Unity crash (my FIFTH one in a row, I might add). I have several level ups worth of easy experience on the board as well as all of my potions. The boss fight will be easy. This strong endgame was made possible by catfighting and using levelups instead of potions and exploration to recover resources. If I had access to shops or preparations, this would have been even easier.
If you found this helpful and would like to see more, let me know. I'm open to requests, but I'm only willing to do this for 'Hard' level dungeons and below. Viscous dungeons and some of the quests require intense scumming and would be a monster pain in the ass to annotate in this manner.