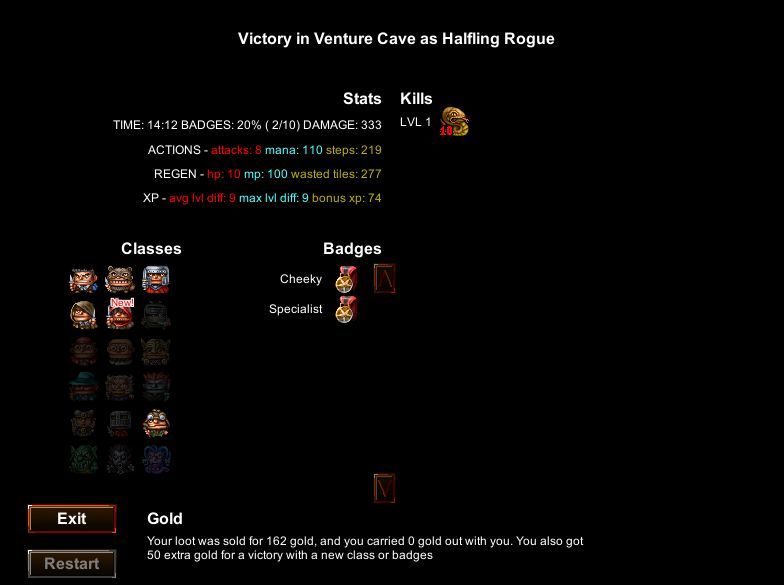 Well, I obviously can't beat Dreamdancer, but at least I tied with Darvin.
Preps were Trisword, Black Market, More Glyphs (was scumming for GETINDARE for an hour, it was impossible. Only GETINDARE, I didn't care one bit what the rest of the dungeon was including the boss.

) and STR and Quicksilver potion. I didn't have money for more

(This is the old bakrupt and buggy profile). No poison either, only god - Taurog. No unstoppable fury or agnostic collar so didn't even get full gear

I couldn't even find anything to break the wall to the damned subdungeon, but after an hour of no getindare I really didn't care anymore...
EDIT: I didn't even have enough gold to feed 3 potions to the trisword -.-' Sorry if all this sounds strange and wrong, but the run was a diasapiontment conga right up to the point where I won.
EDIT2: I'm going to bed. I wrote something factually wrong here because I'm to tired to think (previous tinker run to get gold for this run was first striking popcorn). And GETINDERE needs a nerf big time, and principles that beat VICIOUS should probably not be applied to non-VICIOUS outside of fun contests. And if any of the million things went right (starting with if I had more than a 100 gold for preps) I wouldn't even need the GETINDARE, so that means Rogue is a bit too good or something. Maybe...
EDIT3: Oh, and during that hour I had a run with TT, Taurog, Pactmaker and Medusa as boss, but died to a non-voluntary missclick just because. Have to laugh at that one I suppose

Just thought I'd chime in.