Alpha:Crypt
From DDwiki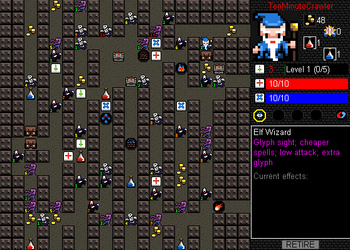 The Crypt is a side dungeon in Desktop Dungeons filled with undead monsters. It is initially locked at start but becomes available after completing the normal dungeon with all Tier 2 classes.
Overview
The dungeon is composed of zombies, wraiths, and vampires (the only dungeon this monster is found in). Like other challenge dungeons it contains two bosses instead of one, these are Tormented One and Frank the Zombie.
Strategy
Rewards
Upon clearing the Crypt with the Assassin the special Vampire class will be available.
Each time this dungeon is cleared by a new class the hero's gold capacity will permanently increase by 5 gold. As there are 18 classes this stands to increase the gold capacity from 70 to 160.
| | |
| --- | --- |
| | This article is in need of content, please consider adding to it. |