Difference between revisions of "Desktop Dungeons"
From DDwiki
Line 76:
Line 76:
 

|}

 

|}

 

|}

 

|}

−

 
−

I completely agree with the above comment, the internet is with a doubt growing into the most important medium of communication across the globe and its due to sites like this that ideas are spreading so quickly. =-=

 
 
 
 

== Tutorials and Help ==

 

== Tutorials and Help ==
---
Revision as of 21:17, 15 May 2012
Welcome to the Desktop Dungeons Wiki!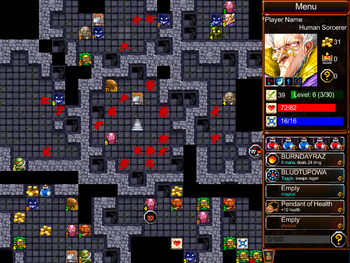 If you've never played a roguelike before, prepare to die, because you will! A lot! Desktop Dungeons was designed as a quick 5-15 minute mini-roguelike experience for you to enjoy without having to lose yourself for hours in the more complex roguelikes such as Dungeon Crawl Stone Soup. (DD is also heavily inspired by DCSS.)
In the coming weeks this will be established as the #1 source for information about the PC game Desktop Dungeons. Registration is easier than most forums; feel free to contribute if you spot any inaccurate information.
Game information
Beta/Full Version
New Players Guide - Get started here
The Dungeons - An overall look at the dungeons you'll find
Races - Descriptions of the tasty glyph eating strategies
Classes - Descriptions and successful strategies
Class Challenges - Devious dungeons that teach a class
Strategy - Strategies to help players good and new alike
Glyphs - Information on glyphs
Leveling - Details on how the game's leveling and experience system works
Gods - The depravity of devious deities divulged!
Items - Details on item functionality
Monsters - Descriptions and strategies for overcoming the deadly denizens of Desktop Dungeons!
Boosters - Stat boosters found in dungeons
Scoring - For when you've unlocked Ranked games
Subdungeons - The deep depths of dangerous dungeons
Tutorials and Help
Annotated Playthroughs - Examples from veteran players
Feedback and media
Get Desktop Dungeons
- Change Log
Play in your browser

Contributing