@paplaukes:
The thing that really toned down Dragon Isles might be applicable here - getting rid of Animated Armors. Otherwise good job

On a simmilar note:
Burning Slime Pits note
- A wizard just did it without B2P a quite easily. Prepped Mysterea and Crystall Ball, dipped into TT for popcorn cleaning Tiki's Edge, a bit of poison (turnedout useless, needs dedication) and gold, killed the blob first, went back to mysterea, took more mana and flames (had refreshment from before) and whoopaz + burnspiked the SMM to death. It's deffintely manageable if you're not doing trickshots, and a "get fammiliar with it quest" would work out dandy.
Namtar's Lair Win no. II - Gnome Bloodmage
- I won, but I'm still really sour about it. Monk attempt crashed and burned (might've been my fault), and Bloodmage won, allthough I did get Zombie gold and the money subdungeon and a trisword. Preps were standard CB caster setup, and I'm very, very annoyed at this dungeon. I don't mind running Binlor in the Labyrinth, as it is doable without him, here it just feels tedious and I feel forced to do it. Not to mention that Bloodmages are stupid good with the built in sanguine (went through Zombie gold while worshiping Drac. The undead! They do nothing!), and guaranteed B2P which further reduces the supposed challenge of having a really cramped map. So yeah, if you take über nerf bait in, find the "win anywhere" subdungeon, and completely eliminate the supposed challenge with preps, it's easily done - but then I'm just playing Grimms Grotto with the stats turned up to eleven... I'd have more fun endlesly trying to beat VICIOUS Gaan'Telet with a Transmuter in a crashstorm...
The actual strat -
Err, use Binlor to get PISSORF and open up the map as much as I can while still leaving some blackspace (used subdungeons for B2P later, which is why Zombie gold here changes things immensly). Swapped from Binlor to Drac. Leveled up with CP B2P manapotion spikes on softer targets (and with a rather explored map the blinkers weren't a problem, which is why Binlor prep is mandatory for this map). PISSORFF spam on the first form, BURNDAYRAZ on the second form, cleared all I could, swapped back to Binlor (3rd guy was GG), went down and being a gnome with BURNDAYRAZ and PISSORFF (and all my health potions) it was rather easy. Abused midfight DINGS! during the first 2 forms.
Namtars Lair Win no. III - Tinker
Well, I'm good w tinkers I guess. Spellcaster setup with translocation + elites, Binlor into GG into EM. Picked up Enlightment with one row of beads, went EM for many refreshments. Found 2 kegs and it almost wasn't enough, the 4th form needed some fancy footwork and PISSORFF bussiness. Was fun just because I always find tinkers fun, but I'm not gonna let that mellow me out - Namtar's lair needs adjustments.
East Suggestion -
Upp the difficulty of HARD Halls of Steel, because it's one of the easier HARD dungeons, remove the vicious HoS because it's an eyesore and ununiform with the rest of the game, move the vampire unlock quest here, and tone the damned place down - less walls for a start. If Binlor wasn't mandatory autoprep I'd consider going back in to try stuff out, this way it'll be a long time untill I do.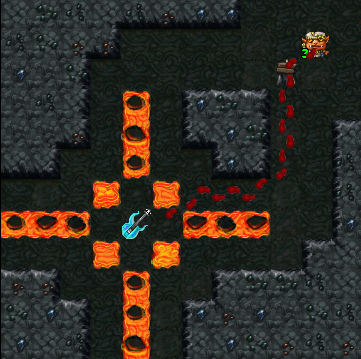 I found that in the north, it's a Elite edition reward. The Titan Guitar is a one use item which makes all same screen enemies slowed and cowardly.
Demonic Library Win
A wizard breezed through it with no B2P. I worshiped Drac throughout even though I had EM and prepped Binlor, I chugged all my health potions to add corrosion to the Avatar, killed all the zombies wantonly - The piety hits! They do nothing! And ended up completely avoiding the subdungeon challenge by simply WHEYTWUTTING the avatar close to the entrance and then WHEYTWUTTING the guy who had spawned on the stairs to where Avatar was... After all the Namtar hassle this looked like a joke, and I'm all the more convinced Namtar ought to be throughly toned down.
Writeup time!
I'm not doing any more DL runs before I unlock another locker slot and/or the Mage Fist / Naga Cauldron bussiness gets resolved. Seeing how all you really need to beat him is WHEYTWUT, and how I beat him on a non-serious scouting run with great number of careless missplays, I think there is no point testing wise. So, the late game and challenge writeups are coming up, and I'll be doing a "post late game" playthrough notes while grinding gold to test out the monster classes, recently added/changed mechanics, and all that.