Desktop Dungeons
From DDwiki
Welcome to the Desktop Dungeons Wiki!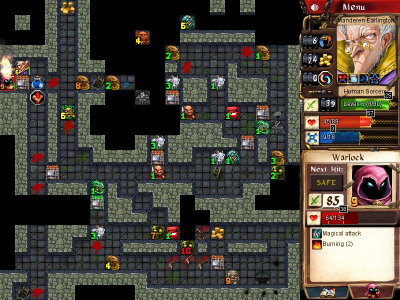 If you've never played a roguelike before, prepare to die, because you will! A lot! Desktop Dungeons was designed as a quick 5-15 minute mini-roguelike experience for you to enjoy without having to lose yourself for hours in the more complex roguelikes such as Dungeon Crawl Stone Soup. (DD is also heavily inspired by DCSS.)
This is the #1 source for information about the PC game Desktop Dungeons. Registration is easier than most forums; feel free to contribute if you spot any inaccurate information.
Game information
Full Version
New Players Guide - Get started here
Bosses - The list of all dungeon bosses
Buildings - The basic blocks of your adventuring Kingdom
The Dungeons - An overall look at the dungeons you'll find
Races - Descriptions of the tasty glyph eating strategies
Classes - Descriptions and successful strategies
Class Challenges - Devious dungeons that teach a class
Strategy - Strategies to help players good and new alike
Glyphs - Information on glyphs
Leveling - Details on how the game's leveling and experience system works
Gods - The depravity of devious deities divulged!
Items - Details on item functionality
Monsters - Descriptions and strategies for overcoming the deadly denizens of Desktop Dungeons!
Boosters - Stat boosters found in dungeons
Subdungeons - The deep depths of dangerous dungeons
Preparations - Give yourself an advantage in your next dungeon run
Unlockables - List of unlockable content and unlock conditions
Sign Stories - Stories found on signs throughout the game
Puzzles - Unlockable puzzles to challenge your mastery
D.E.R.P. - Daily challenges
Triple Quests - 3-stage quests available via the Goatperson DLC
Traits - Modifiers to hero or monster abilities
Desktop Dungeons: Rewind - The remake
Extreme Edition - Fan-made expansion
Tutorials and Help
Annotated Playthroughs - Examples from veteran players
Video Tutorials - Basics
Desktop Dungeons Forum
Further Information on Desktop Dungeons
Contributing
ALPHA: Feedback and media
Desktop Dungeons

General Concepts:

New Players Guide · Strategy · Unlocking content · Leveling ·  Quests ·  Puzzles ·  Traits ·  Health and Attack ·  Mana ·  Knockback ·  Items ·  Badges ·  Class Challenges

Classes:
Races:
Gods:

 The Pactmaker ·  Binlor Ironshield ·  Dracul ·  The Earthmother ·  Glowing Guardian ·  Jehora Jeheyu ·  Mystera Annur ·  Taurog  ·  Tikki Tooki

Monsters:

| Common | Advanced | Special | Plants |
| --- | --- | --- | --- |
|  Bandit ·  Dragon Spawn ·  Goat ·  Goblin ·  Golem  ·  Goo Blob ·  Gorgon ·  Meat Man ·  Serpent ·  Warlock ·  Wraith ·  Zombie  |  Acid Blob ·  Animated Armour ·  Berserker ·  Burn Viper ·  Cave Snake ·  Changeling ·  Cultist ·  Desert Troll ·  Djinn ·  Doom Armour ·  Druid ·  Forest Troll ·  Frozen Troll ·  Gelatinous Thing ·  Illusion ·  Imp ·  Minotaur ·  Muck Walker ·  Naga ·  Rock Troll ·  Rusalka ·  Shade ·  Slime Blob ·  Steel Golem ·  Succubus ·  Thrall ·  Tokoloshe ·  Vampire  |  Bilious Corpse ·  Bloo Goo ·  Blood Snake ·  Dancing Blade ·  Frigid Corpse ·  Goblin Miner ·  Golden Statue ·  Heretic ·  Mystery Meat ·  Ratling ·  Trapped Chest ·  Revenant ·  Bridge Troll  |  Plant ·  Barbing Bush ·  Corrosive Creeper ·  Erosive Eelroot ·  Mysterious Murkshade ·  Poisonous Pod  |

Dungeons:

Easy/Normal
Hard
Vicious

 Hobbler's Hold (Easy) ·  Venture Cave ·  Den of Danger ·  Eastern Tundra ·  Northern Desert ·  Southern Swamp ·  Western Jungle 

 Berserker Camp ·  Creeplight Ruins ·  Cursed Oasis ·  Doubledoom ·  Grimm's Grotto ·  Halls of Steel ·  Havendale Bridge ·  Hexx Ruins ·  Ick Swamp ·  Magma Mines ·  Rock Garden ·  Shifting Passages ·  The Labyrinth ·  The Slime Pit ·  Tower of Gaan-Telet 

 Vicious Steel ·  Demonic Library ·  Namtar's Lair ·  Naga City ·  Dragon Isles ·  Vicious Gaan-Telet 

Also see: Subdungeons

Buildings:

Settlements ·  Guild ·  Thief Den ·  Church ·  Mage Tower · Bank · Blacksmith · Bazaar · Witch · Tavern · Taxidermist · Explorers' Guild · Alchemist · Goat Glade

Glyphs:

 APHEELSIK ·  BLUDTUPOWA  ·  BURNDAYRAZ ·  BYSSEPS ·  CYDSTEPP ·  ENDISWAL ·  GETINDARE ·  HALPMEH ·  IMAWAL ·  LEMMISI ·  PISORF ·  WEYTWUT ·  WONAFYT