15 Jun 10
dislekcia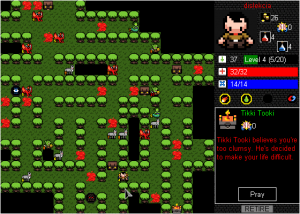 The link you're looking for would be here.
Grab it, play it, love it. We've changed a whole metric boat-load (which is at least 15.4 Imperial boat-loads) in this release, in no particular order:
All new religion system where you use earned piety for specific upgrades.
Streamlined interface totally still lets you do all that math if you want to. You'll wonder how you ever played it before.
100% gold custom tileset by indie king-maker and all around super nice guy, Derek Yu! (Spelunky, TIGSource)
All your old character files will work just fine, but it's more fun to start from scratch again. Trust us.
Tweaks: F2 doubles the window, F4 fullscreens, ESC no longer insta-closes and there's even arrow-key navigation if you're that way inclined.
Fresh high score lists on which to min-max freely (We may even have balanced the Vampire)
Even more content for the super-hardcore endgame players. Seriously, we can't finish this thing…
So yeah. Expect the wiki to be a little out of date for a while until people get the hang of the new systems, then it'll be awesome again.  I'm a little burnt out from not sleeping, but I'm seriously excited that this is finally ready to go! Yeah! Woot! If I had a vuvuzela I'd probably blow it, that's what we do when we're happy in SA.
Download Desktop Dungeons v0.14
P.S. Tilesets all still work, but there are some new tiles that y'all might want to take a look at. Don't forget to put a byline in your tileset.ini!
EDIT – Any users experiencing bugs with Petrifying enemies and worshipping the Earthmother, please re-download the latest version. Rassum frassum pointers… (Nailed some other minor bugs too, v0.142 is at the same link)

52 Responses to "Desktop Dungeons v0.14"