15 Jul 10
Nandrew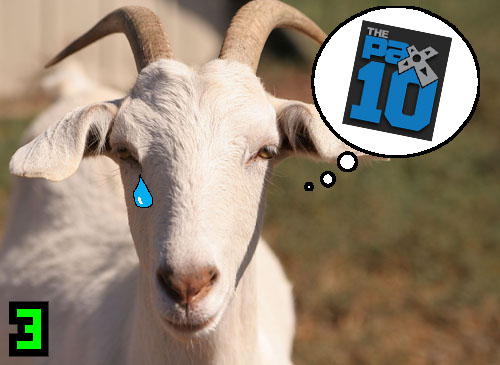 Okay, so we shopped in the tear. Doesn't mean the goat isn't still crying on the inside.
Deciding that we were cocky enough to want a piece of the PAX 2010 pie, we sent the recent freeware draft of Desktop Dungeons to their board of shadowy judgement figures. Turns out we didn't get too far (they cited, among other reasons, a dislike for the colour purple and an all-consuming hatred of farm animals), but we're pretty damn sure that we'll have a little more luck when we shove our commercial reboot down the IGF's throat a little later.
In the meantime, we've been looking at the list of games that did make the bar and most of 'em seem pretty gosh-darn cool. Familiar faces such as Super Meat Boy are present alongside stranger-looking titles like Shibuya, and the competition has pretty good representation across most major platforms.
Few of the games listed have actually been released yet, but I guess that's just further incentive to hit the PAX floor and get a sneak preview. Or some autographs. Whatever floats people's boats, really.