14 Apr 11
Nandrew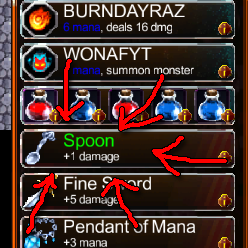 Locker items: never go dungeoneering without an eating utensil again!
Imagine this: you're just wandering around on a merry ol' dungeon run somewhere when you happen to stumble upon a shop selling the Orb of Zot, the Amulet of Yendor or something similarly rare and powerful. Unfortunately, the dungeon you're in isn't particularly challenging, and you lament the fact that such an uncommon occurrence is completely wasted on killing a boring old goblin lord. If only there was some way you could buy the item now and take it into the golem factory for your Wizard run later!
Well, as it so happens, the commercial version of Desktop Dungeons is going to have you covered. As mentioned in our earlier post, the brand-new locker system will allow players to store a limited number of items at the Adventurers' Guild between dungeon runs, while charging them some sort of bureaucratic nonsense fee based on their market value.
What does this mean for the game? Behold:
– Powerful artifacts discovered in easier dungeons don't go to waste — simply bring them back to the kingdom and you'll be able to use them in tougher adventures at your convenience!
– While many locker items are prone to destruction if the player uses or converts them inside a dungeon run, many other items can be used again and again if you're willing to bring them back out with you afterwards. So if you find that Jeweled Sword to be a handy inventory addition for any dungeon run, stay away from your conversion button and carry it all the way through!
– There's a lot of items available, but a limited number of locker slots to put them in. Chances are that you'll have to figure out who (or what) your favourite characters are and adjust your locker space to cater to their tastes. Wizard-prone players can stash Mana Pendants and Battlemage Rings, while Fighters will want to stock up on Chainmail and Really Big Swords.
– For players wanting to top the score charts, bringing along the correct equipment can REALLY make a difference!
– Particularly determined players may stumble across some of the game's more mysterious item drops from time to time — ancient artifacts which not even the most shrivelled old sage knows anything about. Keep them in your locker and take them along for subsequent dungeon adventures! You never know what might happen … especially when ominous ellipses are involved …
11 Responses to "The Desktop Dungeons Adventuring Locker"