02 Jun 11
dislekcia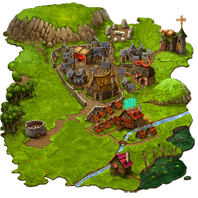 Today we're finally ready to launch the new Desktop Dungeons site. We've got a ton of announcements, so here goes:
Firstly: You can now pre-order the full version of Desktop Dungeons for PC and Mac! Every pre-order will gain access to the upcoming beta as soon as it goes live.
Secondly: To celebrate pre-orders going live, we've got new versions of the Desktop Dungeons freeware for everyone. Not too many changes, just some bug-fixes, general cleanup and some interface changes. Oh! And a new class! And a new dungeon! Enjoy. Yes, your existing saves will carry over just fine.
Thirdly: We're also launching the QCF Forums today. There's now a definitive place to trade DD strategies and ask for support if something's wrong.
We're really excited about the next few months, there's a lot going on. Oh, be sure to come say hi if you're going to be at E3!
3 Responses to "New site. New version. New everything!"
pakoito Says:
June 2nd, 2011 at 1:13 am

Finally.

Lee Says:
June 2nd, 2011 at 7:53 am

Can I just confirm that if I pay $10, i don't get the full game? That doesn't sound right

dislekcia Says:
June 2nd, 2011 at 10:49 am

You get the full game, it can be played from start to finish: We've just added an extra, completely non-essential class and building to the Special Edition as a way of saying thanks.