17 Jun 11
Nandrew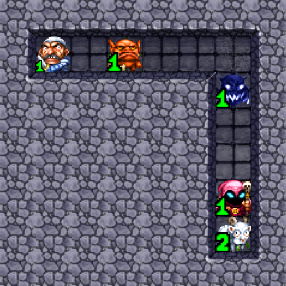 A fiendish mindtrap disguised as a simple situation.
So, Desktop Dungeons has puzzle rooms now.
I don't quite remember when we first decided to add puzzles to DD, but I DO know that they became an absolute necessity after seeing how well they worked in Clash of Heroes. Kicking back and working through some creative challenges in a small, fixed environments is a real breath of fresh air, and they're quite fun to design, too.
It's true that these sort of systems aren't really the game's specialty (and we understand the irony of designing a puzzle game which isn't actually that good with puzzles) but let's brush over that and get to the REAL point: occasionally, we want to get the player doing something different, and with the new dungeon script handlers plus some added flexibility, we've actually managed to get quite a cute little sideline going.
Puzzles in DD tend to focus on smaller situations and perfect information: dungeons are often pre-revealed, no chance-based actions occur and any given puzzle can receive a quick reboot with the player's handy inventory charm.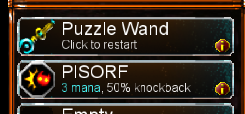 From the lesser-known school of Convenience Magic.
Puzzles are also very, very helpful: earlier ones actually double as advanced tutorials, and overcoming some of the later challenges can open player's eyes to useful new forms of play in the standard game.
Best of all, they're entirely non-intrusive: puzzle packs will be added to the Explorer's Guild in your Kingdom from time to time, but aside from an occasional notification, interacting with them isn't important to game progression at all. Of course, you'll be missing out on some awesome gold and item rewards (most of which cannot be found anywhere else), but hey, you're always free to make the choice …
4 Responses to "My my, how puzzling …"