08 Jul 11
dislekcia
As the team working on Desktop Dungeons expands (more on that later, oh so much more) we're starting to get up to speed on the content side of the game. But you don't need to take my word for it, I submit as evidence the new ice cave tileset that we're working on: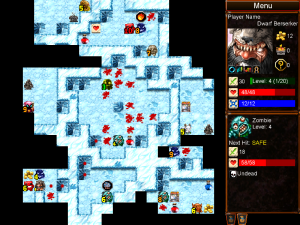 Yes, we've broken tradition with this, the ice isn't in the north (as is so often the case) but actually to the east of the map. Perhaps there's a reason for that?
Of course, this is all part of the lead up to the beta going online. We haven't lost sight of that in the slightest, in fact there are tons of less visible changes happening in the game, but I'll let Aeq talk about those later.
4 Responses to "Beware the frozen… East?"