19 Jul 11
Aequitas
We've all been there. You see something shiny on the dungeon floor, you trot on over, and then you have to decide whether it's worth taking up your oh-so-limited inventory space. Up until now, that's been a slow process of: switching to your inventory, hovering over the tiny little 'i', and then switching back to the pick up panel … all very tedious. NO MORE!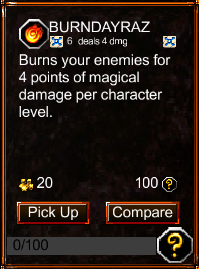 So much juicy information!
First off we have the new improved pickup panel. This gives you way more information about the item you're looking to add to your collection. This look/feel has been reproduced all over the game, so any time you see an item description, it should all be quite familiar. Now comes the good part. You see that little "compare" button on the panel? Click that and VOILA!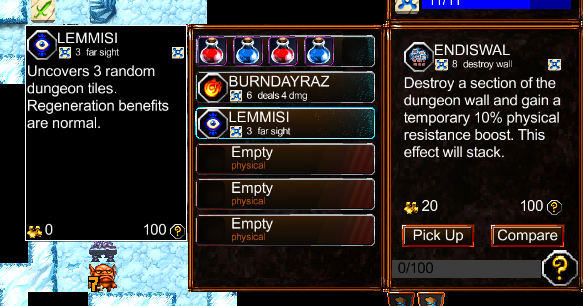 All the information you need, right there!
Now you can see your entire inventory, and if you hover your mouse over it, you'll see all the details of those items too! Worried about it getting in the way of the game screen? Never fear, we've got it all set up so if you move your mouse back into the visible game area, this whole display will magically disappear, getting you right back to killing that damn level 7 goblin.
21 Responses to "Do I want to pick this up?"