20 Feb 13
Nandrew
This past week, we introduced the first draft of our new, graphical Kingdom. While fan reception seems to have been favourable (at least when compared to the tedious ol' button system), there's been a lot of concerns about readability, ease of use and overall practicality.
Don't panic, we've got you covered!
We understand that turning words into pictures isn't the only thing that needs to be done with the new Kingdom layout, and over the next few weeks we'll be working on some of the little tweaks and adjustments needed for a smooth and logical interface. Here's a couple of things that are in the pipeline:
More complete building highlights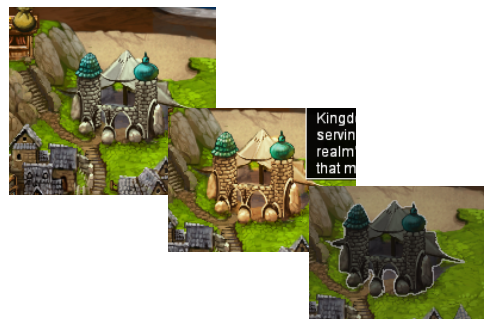 Seamless environmental integration is a plus and reinforces a player's fantasy, but at the end of the day we still need some way to communicate what's clickable, upgradeable or useful on the main screen. Right now, we've got some basic measures in place. Buildings change appearance when they receive mouse attention or get selected. But this doesn't help players *find* the buildings, and certainly won't be of much use when we bring DD to touch devices.
Some of our plans for improvements include:
– periodic "building flashes" for structures that have relevant, immediate info (such as an upgrade or open slot)
– implementing a similar flash when the player clicks on a dead zone
– highlighting other buildings when one is selected
Guideline animations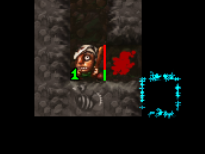 Since many players are tempted to click through blocks of text instead of reading them (even in the game's tutorial sections), building non-verbal cues and eyecatching animations are a huge boon for the teaching effort. They've already worked well in the dungeon tutorials, and we're looking to implement them for a variety of Kingdom issues.
Due to resource constraints, most of these animations will be particle-based instead of sprite animations, much like how we deal with them in-dungeon already.
Animations and "sparklies" can be used for a variety of events:
– new buildings coming into existence
– buildings being upgraded
– guidelines for tutorials
– gold earning
– general notifications
New buttons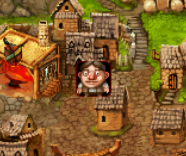 Okay, so not everything about the Kingdom is going to be seamless in-world stuff, we'll still have the reliable old button system for the smaller things, including most menus.
In the screenshot above, you'll notice how difficult it is to spot the human race selector even though it's pretty much the focus of the picture. While the simple black background was enough back in the day when building buttons were more uniform and attention-grabbing, they're going to need a change in this version. A few of our plans:
– Button backgrounds will become larger and clearer
– Distinct shapes and colours will exist for different categories
– We're considering alternative layouts for clarity and faster selection
A new use for the side panel

Soon, buildings will no longer have pop-ups dominating the middle of the screen: information will be more neatly and cleanly organised via the Kingdom's side panel, which currently isn't being used as efficiently as we'd like. The perks:
– Faster selection of different buildings without obscuring the rest of the Kingdom
– Consistent, easy-to-use, more graphically pleasing interface
– The possibility of animations and highlights for in-building features such as class challenges and upgrade buttons
A better Kingdom Advisor
The current side-panel is dominated by a sad and out-of-date Kingdom Advisor whose job it is to afford players verbal guidelines for progression and reinforce the visual cues that we'll be smattering about. The advisor will be receiving a major overhaul while the other aspects are being worked on so that it once again becomes a friendly and relevant way for players to figure out what to do next. Here's a couple of areas to improve upon:
– Advice related to particular buildings or processes (especially during the tutorial) will be conveyed via speech bubbles which actually point to the appropriate location
– The advisor will probably be moved into its own menu and become less intrusive for players who feel they can proceed without it
– Additional game mechanics and dungeon goals may be introduced with the new advisor panel, though we'll need to see how this goes
All of this is just a sample of the little points that we're actively considering to improve the overall Kingdom experience, and implementing all of these little details is going to take some time. But we're definitely going to work on it, and we hope that players notice a considerable improvement in their experience as they're implemented.
So to those who are currently struggling with the Mystery of the Missing Blacksmith, or the confusing diaspora of race / class selection, remember that there's a light at the end of this tunnel!