03 May 13
Nandrew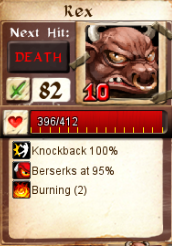 This week is heavier on bugfixes again, but we've made a few interface and design tweaks according to recent player concerns (don't get too excited about balance though, we're keeping our interference super light on that from now on).
The new effects icons should start rolling out this week, and will continue doing so for a while (you may remember us teasing the concepts for those in previous blog images). We've also got more significant plans for Kingdom interface improvements which will hopefully be gracing your screens next week. We're not just talking about artwork, here – extra user interface optimisations are lurking off the port bow, cap'n.
A few other ragtag changes of note: we've done teensy tiny tweaks to the Tinker and Transmuter challenges which should make them more readable and consistently doable (mostly by massaging the RNG, so let's see how well a more subtle approach works). We've also done away with the initial buying of prep slots, at least for now, so hopefully that'll make the play experience a bit smoother in this area.
That's it for now! The rest is detailed in the changelog. Because it's the changelog that you both deserve and need right now. It's kinda like some sort of double hero, maybe? Or maybe just an obscenely stretched pop culture reference. Either way, it follows:
More…