28 Apr 11
Nandrew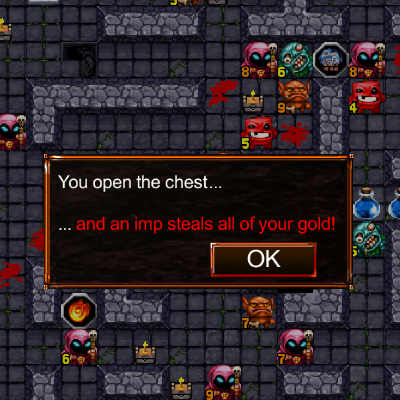 Guess you should have signed up for that suspicious-looking insurance policy after all.
In addition to gold being used for Kingdom upgrades (as well as a more limited form of spending within dungeons themselves), smaller amounts of money can be spent on carefully controlled dungeon preparations.
The previously-discussed adventuring locker is one such preparation, allowing players to carry a saved item into fresh dungeon runs for a fixed fee. But there's many more to be discovered as players upgrade their kingdoms and learn about new buildings. Like other aspects of the game, preparations are designed to range from beginner-friendly helpers to subtle (yet powerful) boosters that more advanced players will find useful.
For the most part, these preparations help patch up some of the problems found in the freeware. The local blacksmith, for example, can sell items that help players boost their way past the first character level or so — decreasing the chance of getting stuck early on. The thief den sells insurance to make sure that your equipment survives a dungeon run — even if you don't. The wizard's tower and church offer instant glyph summoning and god worship perks respectively, reducing the need to scum dungeons for desirable item layouts.
As a matter of fact, the price of entering any dungeon with the full range of possible equipment tends to discourage repetitive in/out situations: the cost of fully kitting up means that players need to explicitly commit their resources to a particular dungeon run, otherwise the gold is wasted.
If you're worried about this making the game too easy, never fear! Many of the more advanced challenges will be designed with dungeon preparations specifically in mind, and those that aren't will generally force players to complete their quests without using any preparations at all.
We hope that preparations will ultimately provide an opportunity to reduce frustration and grinding in the full version of DD without making the game too easy for those who want a genuine challenge. At the very least, they'll certainly bring more personality to the dungeoneering experience.
19 Responses to "Be prepared!"