The Slime Pit
From DDwiki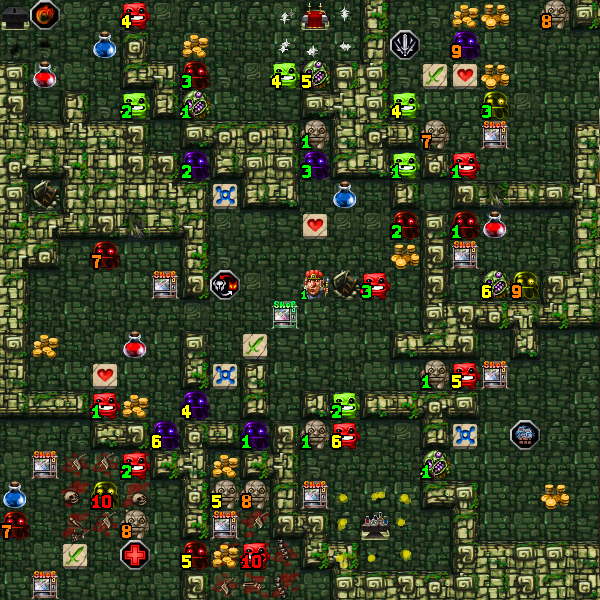 Monsters
The Slime Pit features Warlocks, Goo Blobs, Meat Men, Golems, and several unique monsters. Most have mediocre HP and attack (the same by level as a golem or serpent) and the following abilities:
Gelatinous Thing: Retaliate: Fireball Slime Blob: Cursed (more durable than a Bandit) Muck Walker: Undead, Weakening Strike Acid Blob: poor HP, but Corrosive
Bosses
The two bosses of the Slime Pit are the Goo Blob and Super Meat Man. These bosses are the same as fought elsewhere, but are relatively difficult because of the large pools of physical and magical resources needed to defeat them.
Special Considerations
After killing a certain number of enemies, all the Meat Men in the level begin to rot, which makes them all Poisonous and makes regen fighting them difficult. As you continue to kill monsters, the Meat Men rot further and become Corrosive as well--at this point it is probably not worth fighting any non-popcorn Meat Men. The boss, Super Meat Man, is fortunately not affected.
Desktop Dungeons

General Concepts:

New Players Guide · Strategy · Unlocking content · Leveling ·  Quests ·  Puzzles ·  Traits ·  Health and Attack ·  Mana ·  Knockback ·  Items ·  Badges ·  Class Challenges

Classes:
Races:
Gods:

 The Pactmaker ·  Binlor Ironshield ·  Dracul ·  The Earthmother ·  Glowing Guardian ·  Jehora Jeheyu ·  Mystera Annur ·  Taurog  ·  Tikki Tooki

Monsters:

| Common | Advanced | Special | Plants |
| --- | --- | --- | --- |
|  Bandit ·  Dragon Spawn ·  Goat ·  Goblin ·  Golem  ·  Goo Blob ·  Gorgon ·  Meat Man ·  Serpent ·  Warlock ·  Wraith ·  Zombie  |  Acid Blob ·  Animated Armour ·  Berserker ·  Burn Viper ·  Cave Snake ·  Changeling ·  Cultist ·  Desert Troll ·  Djinn ·  Doom Armour ·  Druid ·  Forest Troll ·  Frozen Troll ·  Gelatinous Thing ·  Illusion ·  Imp ·  Minotaur ·  Muck Walker ·  Naga ·  Rock Troll ·  Rusalka ·  Shade ·  Slime Blob ·  Steel Golem ·  Succubus ·  Thrall ·  Tokoloshe ·  Vampire  |  Bilious Corpse ·  Bloo Goo ·  Blood Snake ·  Dancing Blade ·  Frigid Corpse ·  Goblin Miner ·  Golden Statue ·  Heretic ·  Mystery Meat ·  Ratling ·  Trapped Chest ·  Revenant ·  Bridge Troll  |  Plant ·  Barbing Bush ·  Corrosive Creeper ·  Erosive Eelroot ·  Mysterious Murkshade ·  Poisonous Pod  |

Dungeons:

Easy/Normal
Hard
Vicious

 Hobbler's Hold (Easy) ·  Venture Cave ·  Den of Danger ·  Eastern Tundra ·  Northern Desert ·  Southern Swamp ·  Western Jungle 

 Berserker Camp ·  Creeplight Ruins ·  Cursed Oasis ·  Doubledoom ·  Grimm's Grotto ·  Halls of Steel ·  Havendale Bridge ·  Hexx Ruins ·  Ick Swamp ·  Magma Mines ·  Rock Garden ·  Shifting Passages ·  The Labyrinth ·  The Slime Pit ·  Tower of Gaan-Telet 

 Vicious Steel ·  Demonic Library ·  Namtar's Lair ·  Naga City ·  Dragon Isles ·  Vicious Gaan-Telet 

Also see: Subdungeons

Buildings:

Settlements ·  Guild ·  Thief Den ·  Church ·  Mage Tower · Bank · Blacksmith · Bazaar · Witch · Tavern · Taxidermist · Explorers' Guild · Alchemist · Goat Glade

Glyphs:

 APHEELSIK ·  BLUDTUPOWA  ·  BURNDAYRAZ ·  BYSSEPS ·  CYDSTEPP ·  ENDISWAL ·  GETINDARE ·  HALPMEH ·  IMAWAL ·  LEMMISI ·  PISORF ·  WEYTWUT ·  WONAFYT