The Crypt
From DDwiki
| | |
| --- | --- |
| | This article may contain outdated information. |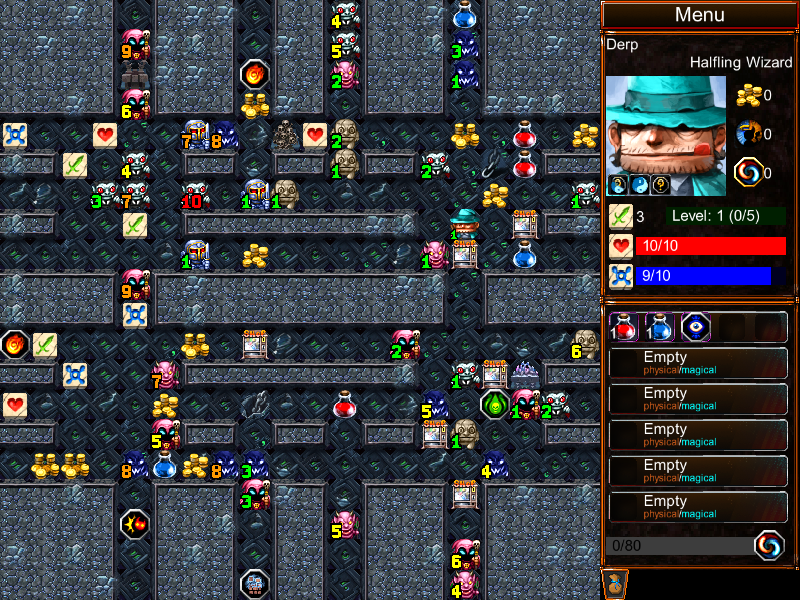 Overview
Monsters: Golems, Vampires, Warlocks and Animated Armors.
Boss: Count BlahBlah. Vicious: 1322 HP, 120 damage/Hard: 760 HP, 90 damage. Blinks, life steal 40%, undead.
Special Rules: Whenever a monster dies, all vampires become hidden.
Recommended classes: Priest, Paladin, Wizard, Bloodmage.
Recommended gods: Jehora Jeheyu, Glowing Guardian.
Notes: Vicious mode is unlocked after beating the dungeon in Hard mode with 4 different classes.
Strategy
The special rule applied to Vampires in this dungeon can be annoying, but it can be used in your favor, since vampires cannot drain your life when you have less than 40% HP. Whenever you HP is low, explore some tiles with vampires and regenerate. This strategy works specially well with Jehora Jeheyu, since he gives you piety (or punishes you) when a tile with an enemy is explored. This strategy can be used with BLUDTUPOWA to prevent the gain of HP while exploring vampires.
The combination of a Gnome Wizard, Jehora Jeheyu and BLUDTUPOWA is a powerful strategy. The Wizard does not suffer much from JJ's punishments and can use the Boost Mana boon to raise his mana up to 25 points. This becomes even better when combined with HALPMEH and a Sensation Stone/Keg of Mana. the Bloodmage can also be used instead of the Wizard.
Followers of Glowing Guardian have the advantage of getting extra piety from Vampires. This works well with Paladins, since they can drink potions in addition to getting healed by

 Protection.
In Hard mode, the boss hides whenever he blinks. This can be an advantage for classes with healing abilities, like Paladin or Priest. First explore the boss' tile with low HP, then use a potion/
 HALPMEH. This way, the boss will not drain your health and you will regenerate HP/MP. It is also possible to stop the boss' blinking with

 WEYTWUT (though it's usually expensive) or

 Entanglement.
Quests
Razor Blade Smile: Complete the dungeon on Vicious mode with three different classes to unlock the Vampire.
Desktop Dungeons

General Concepts:

New Players Guide · Strategy · Unlocking content · Leveling ·  Quests ·  Puzzles ·  Traits ·  Health and Attack ·  Mana ·  Knockback ·  Items ·  Badges ·  Class Challenges

Classes:
Races:
Gods:

 The Pactmaker ·  Binlor Ironshield ·  Dracul ·  The Earthmother ·  Glowing Guardian ·  Jehora Jeheyu ·  Mystera Annur ·  Taurog  ·  Tikki Tooki

Monsters:

| Common | Advanced | Special | Plants |
| --- | --- | --- | --- |
|  Bandit ·  Dragon Spawn ·  Goat ·  Goblin ·  Golem  ·  Goo Blob ·  Gorgon ·  Meat Man ·  Serpent ·  Warlock ·  Wraith ·  Zombie  |  Acid Blob ·  Animated Armour ·  Berserker ·  Burn Viper ·  Cave Snake ·  Changeling ·  Cultist ·  Desert Troll ·  Djinn ·  Doom Armour ·  Druid ·  Forest Troll ·  Frozen Troll ·  Gelatinous Thing ·  Illusion ·  Imp ·  Minotaur ·  Muck Walker ·  Naga ·  Rock Troll ·  Rusalka ·  Shade ·  Slime Blob ·  Steel Golem ·  Succubus ·  Thrall ·  Tokoloshe ·  Vampire  |  Bilious Corpse ·  Bloo Goo ·  Blood Snake ·  Dancing Blade ·  Frigid Corpse ·  Goblin Miner ·  Golden Statue ·  Heretic ·  Mystery Meat ·  Ratling ·  Trapped Chest ·  Revenant ·  Bridge Troll  |  Plant ·  Barbing Bush ·  Corrosive Creeper ·  Erosive Eelroot ·  Mysterious Murkshade ·  Poisonous Pod  |

Dungeons:

Easy/Normal
Hard
Vicious

 Hobbler's Hold (Easy) ·  Venture Cave ·  Den of Danger ·  Eastern Tundra ·  Northern Desert ·  Southern Swamp ·  Western Jungle 

 Berserker Camp ·  Creeplight Ruins ·  Cursed Oasis ·  Doubledoom ·  Grimm's Grotto ·  Halls of Steel ·  Havendale Bridge ·  Hexx Ruins ·  Ick Swamp ·  Magma Mines ·  Rock Garden ·  Shifting Passages ·  The Labyrinth ·  The Slime Pit ·  Tower of Gaan-Telet 

 Vicious Steel ·  Demonic Library ·  Namtar's Lair ·  Naga City ·  Dragon Isles ·  Vicious Gaan-Telet 

Also see: Subdungeons

Buildings:

Settlements ·  Guild ·  Thief Den ·  Church ·  Mage Tower · Bank · Blacksmith · Bazaar · Witch · Tavern · Taxidermist · Explorers' Guild · Alchemist · Goat Glade

Glyphs:

 APHEELSIK ·  BLUDTUPOWA  ·  BURNDAYRAZ ·  BYSSEPS ·  CYDSTEPP ·  ENDISWAL ·  GETINDARE ·  HALPMEH ·  IMAWAL ·  LEMMISI ·  PISORF ·  WEYTWUT ·  WONAFYT