The Deadites
From DDwiki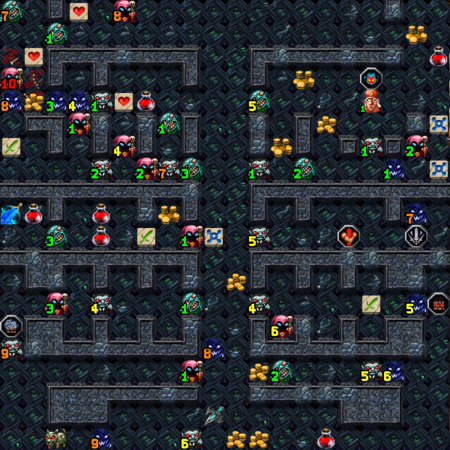 The Deadites is the

 Priest bronze challenge. The boss is a unique

 Warlock named Bad Ash.
Preparations
None allowed.
Resources Available
There are 2 unique items that always spawn: the Chainsaw and the Boomstick ( +5 base damage and +10 max health each, can not be lockered). Chance of


 Pepper the Dog making the boss pretty easy to beat(zombie dog turns living boss into zombie boss).

No altars, gold or shops, but boosters spawn normally.
Monsters Present
Unique Dungeon Traits
One item that is essential is the Pepper the Dog. It works somewhat like the


 Badge of Honour. Instead of giving death protection, however, it turns the next thing that it hits after being consumed into an undead creature. Without this effect, the boss is very difficult to defeat.
Bad Ash
Bad Ash isn't too hard, but he's a little intimidating to start with. He has 112 attack and 636 health, with 100% Death-Gaze and Magical Attack.
Strategy
The race that you should pick depends on what aspect of the priest you want to leverage the most. Halflings are my personal choice, as that gives you the most health potions to make use of. Orcs are a good second, as their base damage bonus lines up quite nicely with the Priest's +100% damage against undead class trait, especially since almost every monster in this dungeon is undead.
If you're doing this early on, you might not have access to these more exotic options. In that case, humans are probably the best way to go, as the only other race that synergizes with the Priest would be the Dwarves, and the Priest needs more damage than he does health.
This is a simple dungeon. Run around until you find one or two of the guaranteed spawn items. Use them to kill the highest level monsters that won't kill you back. Do not use any health potions. Do this until you can survive one hit from Bad Ash. Use Pepper the Dog to turn Bad Ash into an undead creature. Heal. Continue leveling until you reach level 9 or 10. Convert all glyphs except for GETINDARE and BYSSEPS(if you find them). Use your accumulated resources to damage Bad Ash while avoiding his 100% Death-Gaze via health potions. Repeat until he's dead.
It'll be closer if using a human, but if you wait until you've acquired halflings, this challenge will be a breeze.
Desktop Dungeons

General Concepts:

New Players Guide · Strategy · Unlocking content · Leveling ·  Quests ·  Puzzles ·  Traits ·  Health and Attack ·  Mana ·  Knockback ·  Items ·  Badges ·  Class Challenges

Classes:
Races:
Gods:

 The Pactmaker ·  Binlor Ironshield ·  Dracul ·  The Earthmother ·  Glowing Guardian ·  Jehora Jeheyu ·  Mystera Annur ·  Taurog  ·  Tikki Tooki

Monsters:

| Common | Advanced | Special | Plants |
| --- | --- | --- | --- |
|  Bandit ·  Dragon Spawn ·  Goat ·  Goblin ·  Golem  ·  Goo Blob ·  Gorgon ·  Meat Man ·  Serpent ·  Warlock ·  Wraith ·  Zombie  |  Acid Blob ·  Animated Armour ·  Berserker ·  Burn Viper ·  Cave Snake ·  Changeling ·  Cultist ·  Desert Troll ·  Djinn ·  Doom Armour ·  Druid ·  Forest Troll ·  Frozen Troll ·  Gelatinous Thing ·  Illusion ·  Imp ·  Minotaur ·  Muck Walker ·  Naga ·  Rock Troll ·  Rusalka ·  Shade ·  Slime Blob ·  Steel Golem ·  Succubus ·  Thrall ·  Tokoloshe ·  Vampire  |  Bilious Corpse ·  Bloo Goo ·  Blood Snake ·  Dancing Blade ·  Frigid Corpse ·  Goblin Miner ·  Golden Statue ·  Heretic ·  Mystery Meat ·  Ratling ·  Trapped Chest ·  Revenant ·  Bridge Troll  |  Plant ·  Barbing Bush ·  Corrosive Creeper ·  Erosive Eelroot ·  Mysterious Murkshade ·  Poisonous Pod  |

Dungeons:

Easy/Normal
Hard
Vicious

 Hobbler's Hold (Easy) ·  Venture Cave ·  Den of Danger ·  Eastern Tundra ·  Northern Desert ·  Southern Swamp ·  Western Jungle 

 Berserker Camp ·  Creeplight Ruins ·  Cursed Oasis ·  Doubledoom ·  Grimm's Grotto ·  Halls of Steel ·  Havendale Bridge ·  Hexx Ruins ·  Ick Swamp ·  Magma Mines ·  Rock Garden ·  Shifting Passages ·  The Labyrinth ·  The Slime Pit ·  Tower of Gaan-Telet 

 Vicious Steel ·  Demonic Library ·  Namtar's Lair ·  Naga City ·  Dragon Isles ·  Vicious Gaan-Telet 

Also see: Subdungeons

Buildings:

Settlements ·  Guild ·  Thief Den ·  Church ·  Mage Tower · Bank · Blacksmith · Bazaar · Witch · Tavern · Taxidermist · Explorers' Guild · Alchemist · Goat Glade

Glyphs:

 APHEELSIK ·  BLUDTUPOWA  ·  BURNDAYRAZ ·  BYSSEPS ·  CYDSTEPP ·  ENDISWAL ·  GETINDARE ·  HALPMEH ·  IMAWAL ·  LEMMISI ·  PISORF ·  WEYTWUT ·  WONAFYT