10 Feb 11
dislekcia
Last week I lobbed a couple of pics of the hastily-thrown-together tileset editor at twitter. This week I've been getting the new graphics into the game, witness a test dungeon: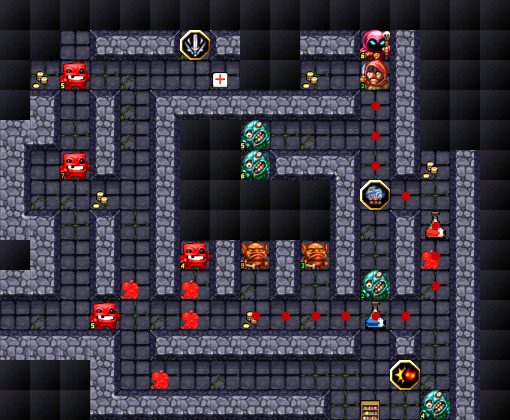 The new tilesets give the player slightly more information about the dungeon.
Lurk's been doing an amazing job with the monster and character sprites, if the interface didn't still look like a coder's breakfast, you'd see how much the Rogue sprite looks like his portrait… Yes, we're still using some of the old sprites as placeholders for now. I would have finished changing those by now if we hadn't been busy being interviewed so much:
P.S. I can't believe we forgot to blag about The Last Fleet being selected as a Gamesauce Challenge winner! Marc and Rodain were thence invited to Casual Connect Europe (which is just about to end) but we're running a little low on Out of Africa money, so one of the runners-up got to go instead.