28 Jun 13
Nandrew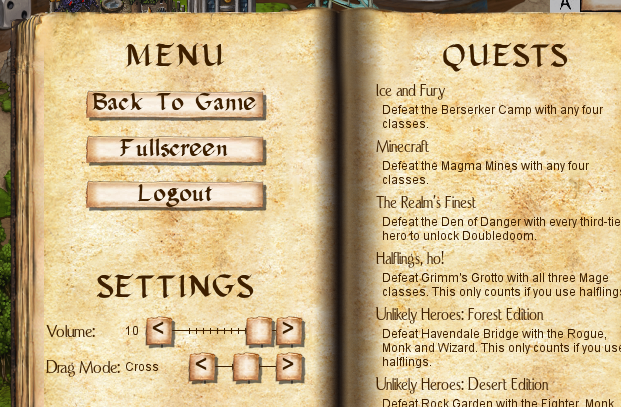 Some of you will be very pleased to hear that we've finally enabled keyboard arrow support for Desktop Dungeons. Combined with other interface improvements that have taken place in recent weeks, you may now use the four directional to explore an eight-directional, step-by-step dungeon experience to your heart's content. This mode not only allows faster and more effective early-game movement (for players otherwise forced to use the trackpad), but also lets you select and engage enemies in the same way that the right-click targeting system does.
Sally forth and clackity clack to your heart's content!
We've also started cleaning up the in-game menu in preparation for the impending Codex – golly, we haven't spoken about that in a while, have we? We've also revised existing interface thingies a whole bunch too, including some inventory-based issues which have come to prominence in recent weeks. It's an interesting and slightly uncomfortable balancing act, but we're making good headway.
If this week doesn't offer an overwhelming number of new bugs for players to bang their heads against, then we'll consider our chunky list of fixes to be a great success. Want to know more? Well, the changelog follows:
More…