30 May 11
Nandrew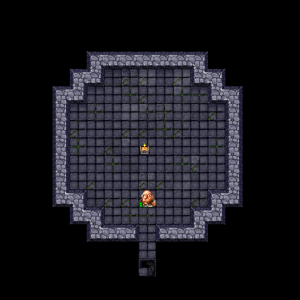 Yeah, this situation doesn't look suspicious at all.
I've always felt a little bit guilty about the latter portion of freeware DD's game progression: in terms of raw challenge, it was good giving players a few extra dungeons to bang their heads against, but the core gameplay never changed quite enough for it to be pronounced "good design". It was more like simple difficulty escalation: people completed X, they wanted more, so we gave them Y with an extra boss and they were only allowed to hurt monsters by chest-bumping them.
The freshly-established code base in the Unity version was built with far more flexibility in mind, and it's a lot easier to add variety in dungeons. Now it's not just a matter of creating more difficult dungeons with one or two extra enemies: we can change terrain layouts, spawn numbers and even starting gear. We can even code special scripted rules on a per-dungeon basis to shake things up, though this has to be done with care.
Read on for a more detailed description of our changes, along with a bunch of screenshots — just please excuse the repetitive graphics, we've only got one terrain tileset loaded up at the moment! More…