27 Dec 10
Nandrew
It's been a weird and rather stressful year, and in the aftermath of all the personal madness I realise that I've been rather Internet-withdrawn recently. Having come to this understanding, I knew that there was only one solution to this problem (and indeed, all of life's problems): get Vikings involved.
Hence FienDASH, a creative exercise in which I decided to take the absolutely awesome (and not-used-nearly-often-enough) Norse mythology, fuse it with some inspiration from the Deadly Rooms of Death game series and throw in stuff like special abilities, axes and lots of badly-drawn blood. Oh, and procedurally generate the whole damn thing because I absolutely love that sort of stuff.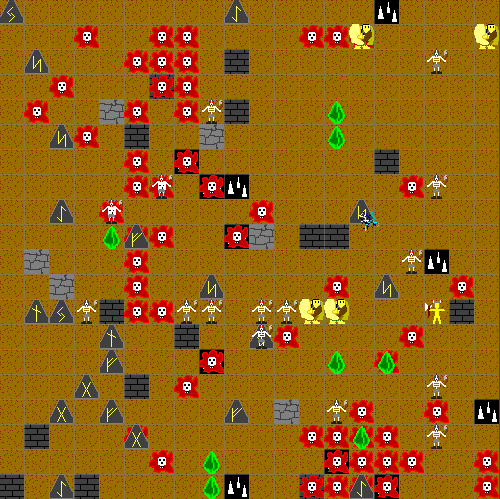 Typical Viking messiness. Gotta love it.
What I strove for was something along the lines of this really badass Viking story : absolute swarms of enemies against a lone hero in a randomly-generated, turn-based environment.
So far it's only a crappy prototype with some horrendous art to match, but I think I've got the basic gameplay demonstrated if you feel adventurous enough to download it. It's pretty challenging and poorly explained though (if I keep working on this, I'll probably throw in a proper tutorial), so if you want to read the full post, I'll give a quick summary guide: