14 Nov 11
Aequitas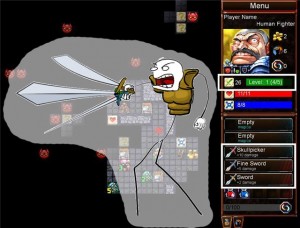 So with a recent patch to the Desktop Dungeons beta, we toned down many of the items that people delighted in using. Most of the delight was caused by these items being "no brainers": they were so out of balance with the rest of the item pool that there was never a reason to pick anything else. Any item being a "no brainer" in  DD is probably a bad thing, since the game is designed around a core concept of give the player meaningful decisions. Here we created a meaningless decision, because there's no reason to not take that item. This had to be remedied.
In the end we changed some things, fiddled with some knobs, and came up with what we think are some much more balanced items. We took out items that got better over time (with either leveling or monster kills) because there was no decision there: you were going to level up, and kill monsters anyway. We added some items that get better when you use potions, because using a potion early (not saving it for the boss) makes for a meaningful decision. We made some items smaller, because they weren't being used when large, so now you need to decide if potions or the small items are more important. We also removed/changed items that were just "a better X", because the less powerful items became obsolete.
While we're on the subject of meaningful decisions, let's talk about lockers. There is, and will forever be, someone who asks the question "Can we get more lockers?". The simple truth is that no amount of lockers will suffice, until we reach a point where there is a locker for ever item in the game … and then, the choice of whether to locker an item will have become meaningless. If we do our jobs right, then you should yearn to locker every item. You should cry out to the heavens "Why can't I locker just one more thing!". By limiting your lockers, we force you to make meaningful decisions about the next run, or the next 6 runs. So no, at no point will you ever have enough lockers to satisfy you … and that's ok.
At least you'll be making meaningful decisions.
4 Responses to "Item Design"