Mage Tower
From DDwiki
The Mage Tower is a building that houses the magicians of Desktop Dungeons. Initially only the

 Wizard is available (after a cost of 150 

to build the building). Further upgrades later unlock the

 Sorcerer and

 Bloodmage classes as well as various preparation unlocks.
Upgrades
Level 0 - Tower Foundation

This piece of the Kingdom has been staked out by a group of mystics for its arcane geographic properties and whatnot. In the proud tradition of wizards everywhere, they haven't actually done anything with it yet.
Level 1 - Wizard School

This is a humble magical abode. Its inhabitants regularly complain about the height, as their pointy hats tend to scrape against the ceiling.
Cost to upgrade: 1000 

Class:

 Wizard unlocked


Level 2 - Tower Of Magic

The mystics of this tower regularly enjoy exploding things in the name of progress -- it's jolly good fun between sessions of serious arcane investigation.
Cost to upgrade: 2000 

Class:

 Sorcerer unlocked
Flame Magnet: Grabs the

 BURNDAYRAZ Glyph from the dungeon and puts it in the player's inventory. If no such Glyph exists, a random one is selected.
Fewer Glyphs: Removes one Glyph from the dungeon, but the conversion values of Glyphs are increased.
Extra Glyph: Adds one Glyph to the dungeon, but the conversion values of Glyphs are decreased.
Monster: Unlocks the


 Goat monster and adds it to your base monster pool.


Level 3 - Sky Tower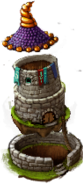 The magnificent sky tower that the wizards call home is -- suitably enough -- quite inaccessible to anyone without the power of flight. This doesn't prevent the occasional hornet from flying in and causing widespread wizardly panic.
Class:

 Bloodmage unlocked
Extra Attack Boosters: Adds two Attack Boosters to the dungeon.
Extra Mana Boosters: Adds two Mana Boosters to the dungeon.
Extra Health Boosters: Adds two Health Boosters to the dungeon.
Monster: Unlocks the


 Golem monster and adds it to your base monster pool.


Challenges
Like other class buildings the Guild provides unique class challenges (bronze, silver, and gold) for each class.
Challenge
Preparations
Description
Reward

 

Magic, Woo!

None
Ancient texts report a great and mysterious source of magical power in the Deadly Death Bog. Unfortunately, a barbarian class has constructed an impenetrable stone fortress on the site and reportedly 'hates all of that magic stuff'.
150 

 

Malfunctionarium

Mage Tower
After a few more futile attempts at correctly translating the ancient text, you decide that there's only one place that can unlock the true secrets of such a garbled script: the aptly-named Malfunctionarium. It can only be hoped that nothing will go horribly wrong while you're there.

 

Mage Plate

 

The Golem Factory

None
Up for some glory, wizard? Seek out the golem factory hidden in the Alphae Nostalge mountains and prove your mettle as a spellcaster!
Return Slot*

 

Bloo Hoo

None
The blobby, sentient jellies known as the Bloo Goo have been studied as a magical curiosity for a very long time. Your Kingdom's mages believe that they've discovered something new and valuable about these creatures, but they'll need to collect some fresh samples.
250 

 

Damp Darkness

Blacksmith, Mage Tower
Examining the Bloo Goo itself has provided little information, but evidence points to a nearby flooded tomb that may hold the answers you seek.

 

Blue Bead

 

Deep Magic

None
The tomb goes deeper, and the power of the Bloo Goo grows. There's a darker secret being kept here, you're certain, but you'll have to deal with the tomb's increasingly mysterious guardians if you want to uncover it.
Return Slot*

 

A Taste

None
Those who seek the darkest of power can only rise by stepping on those who have failed before. You are ready to begin treading the path. Be wary of the sacrifices you must make ... and be strong enough to accept the rewards.
350 

 

Bloodsoaked Blade

Mage Tower, Blacksmith and Bazaar
It is said that the druids of the western forest guard a sinister artifact, stolen long ago from the sanctum of Dracul the Undying and hidden from those who would use it for evil. The opportunity to study this blade cannot be passed up, and it has been decided that you'll clear a path through Havendale to find it.

 

Vampiric Blade

 

Bloody Victory

None
You have the blade, but you'll need to cover your tracks. It is said that one of Dracul's champions has been carving a bloody swathe through the west in search of this very weapon -- you must seize the opportunity to destroy your opponent before it realizes that you've become the target.
Return Slot*
You must beat all 3 golds for the Return Slot.
Desktop Dungeons

General Concepts:

New Players Guide · Strategy · Unlocking content · Leveling ·  Quests ·  Puzzles ·  Traits ·  Health and Attack ·  Mana ·  Knockback ·  Items ·  Badges ·  Class Challenges

Classes:
Races:
Gods:

 The Pactmaker ·  Binlor Ironshield ·  Dracul ·  The Earthmother ·  Glowing Guardian ·  Jehora Jeheyu ·  Mystera Annur ·  Taurog  ·  Tikki Tooki

Monsters:

| Common | Advanced | Special | Plants |
| --- | --- | --- | --- |
|  Bandit ·  Dragon Spawn ·  Goat ·  Goblin ·  Golem  ·  Goo Blob ·  Gorgon ·  Meat Man ·  Serpent ·  Warlock ·  Wraith ·  Zombie  |  Acid Blob ·  Animated Armour ·  Berserker ·  Burn Viper ·  Cave Snake ·  Changeling ·  Cultist ·  Desert Troll ·  Djinn ·  Doom Armour ·  Druid ·  Forest Troll ·  Frozen Troll ·  Gelatinous Thing ·  Illusion ·  Imp ·  Minotaur ·  Muck Walker ·  Naga ·  Rock Troll ·  Rusalka ·  Shade ·  Slime Blob ·  Steel Golem ·  Succubus ·  Thrall ·  Tokoloshe ·  Vampire  |  Bilious Corpse ·  Bloo Goo ·  Blood Snake ·  Dancing Blade ·  Frigid Corpse ·  Goblin Miner ·  Golden Statue ·  Heretic ·  Mystery Meat ·  Ratling ·  Trapped Chest ·  Revenant ·  Bridge Troll  |  Plant ·  Barbing Bush ·  Corrosive Creeper ·  Erosive Eelroot ·  Mysterious Murkshade ·  Poisonous Pod  |

Dungeons:

Easy/Normal
Hard
Vicious

 Hobbler's Hold (Easy) ·  Venture Cave ·  Den of Danger ·  Eastern Tundra ·  Northern Desert ·  Southern Swamp ·  Western Jungle 

 Berserker Camp ·  Creeplight Ruins ·  Cursed Oasis ·  Doubledoom ·  Grimm's Grotto ·  Halls of Steel ·  Havendale Bridge ·  Hexx Ruins ·  Ick Swamp ·  Magma Mines ·  Rock Garden ·  Shifting Passages ·  The Labyrinth ·  The Slime Pit ·  Tower of Gaan-Telet 

 Vicious Steel ·  Demonic Library ·  Namtar's Lair ·  Naga City ·  Dragon Isles ·  Vicious Gaan-Telet 

Also see: Subdungeons

Buildings:

Settlements ·  Guild ·  Thief Den ·  Church ·  Mage Tower · Bank · Blacksmith · Bazaar · Witch · Tavern · Taxidermist · Explorers' Guild · Alchemist · Goat Glade

Glyphs:

 APHEELSIK ·  BLUDTUPOWA  ·  BURNDAYRAZ ·  BYSSEPS ·  CYDSTEPP ·  ENDISWAL ·  GETINDARE ·  HALPMEH ·  IMAWAL ·  LEMMISI ·  PISORF ·  WEYTWUT ·  WONAFYT